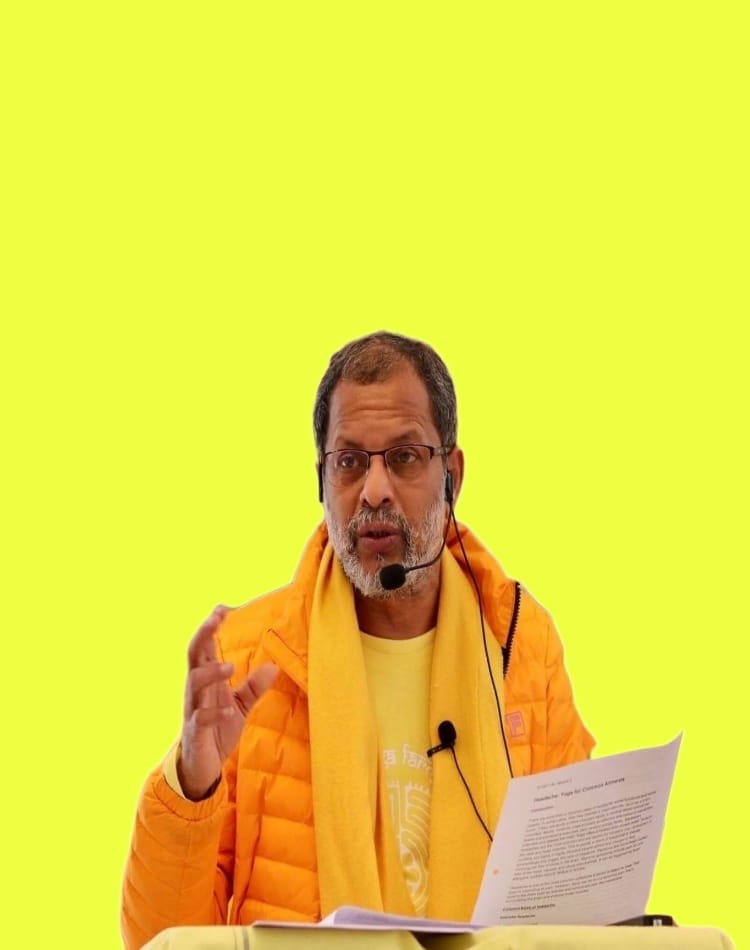 Sri. Narayanji Yoga Acharyan
Founder. Intuitive Visionary Director. VAJRA YOGA
Founder. Intuitive Visionary Director. Smile-Yoga International. Founder. Intuitive Visionary Director. VAJRA -Yoga International. Smile-Yoga International. Smile-Yoga International. Mar 2006 - Present · 17 yrs 2 mosMar 2006 - Present · 17 yrs 2 mos Global Global Promoting the Concepts-" Yoga as a Way of life". Spiritually minded Inner Learning Experience(SMILE). Global Family(Vasudhaiva Kutumbakam) based on Integral Humanism( Ekatma Manava Dharsan). SPIRITUALLY MOTIVATED INTUITIVE LIFE EMPOWERMENT ( VAJRA )- YOGA. Spiritually Mentored Intuitive Learning Experience (smile) - Yoga. Promoting YOGA-HEALTH EDUCATION, WELLNESS. HEALTH PRACTICES AND FITNESS METHODS as a HOLISTIC WAY accessible for Physical, Energetic, Mental/Emotional, Intellectual, Social and Spiritual Well-being.
Ayurveda aims to find a state of equilibrium in the body, and meditation is one of the modalities used for finding this harmony. "Ayurveda and meditation have always been connected," Yoga and Ayurveda both emphasize on cultivating healthy body, mind and soul with proper guidance of therapeutic yoga sessions, pranayama and meditation.
The amalgamation of yoga and Ayurveda heals the body both physical and psychological level of attaining equilibrium over the mindfulness. At Vajra, Our Yoga Masters guide you through Mindful Yoga and meditation sessions at Yoga Sala. Therapeutic yoga sessions are done under the guidance of medical team and yoga Instructor.
Yoga and Meditation Package
Healing Body, Mind & Soul
Here we find the journey to self. The way to heal your body, mind and soul.
ASANAS | MINDFUL MEDITATION | PRANAYAMA | MUDRA THERAPY | MANTRA CHANTING | INTERACTIVE SESSIONS | SOUND HEALING.
योगेन चित्तस्य पदेन वाचां ।
मलं शरीरस्य च वैद्यकेन ॥
योऽपाकरोत्तमं प्रवरं मुनीनां ।
पतञ्जलिं प्राञ्जलिरानतोऽस्मि ॥
2 Hour yoga session
Morning & Evening sessions (Includes : Asanas, Meditation, Mudra, Yoganidra and Pranayama)
1Hour Interactive session  (Awareness class on Yoga and Ayurveda)
A/C  Accommodation
Organic 3 Veg Meals
24 Hour hot water services in room
Wifi
Ayurveda treatments & medicines
Laundry services
Bystander food
Extra yoga classes are chargable
Medical Investigations
" YOGA SESSION DETAILS WILL BE DECIDED AFTER THE FIRST CONSULTATION.
VAJRA AYURVEDA &YOGA RETREAT WILL ASSURE YOU TO PROVIDE THE BEST SERVICE IN THE FIELD, THANK YOU SO MUCH FOR APPROACHING US. LOOKING FORWARD FOR YOUR VISIT AND KINDLY REQUESTING YOU TO CONFIRM THE STAY AND PACKAGE."
MORNING 6:30 SESSIONS
  EVENING 5:30 SESSIONS ​
The Sanskrit word yoga means 'to unite'.
Yoga is an ancient system of physical, mental and spiritual practices .Its aim is to create union of the body, mind, soul and universal consciousness. Yoga practices include breathing techniques, postures, relaxation, chanting and meditation methods. Yoga helps us to see our selves clearly by becoming aware of our thoughts and feelings and to change when they no longer serve us.
SINGLE OCCUPANCY (PER PERSON PER DAY) : 5500/- INR
DOUBLE OCCUPANCY (TWO PERSON PER DAY) :9,000/- INR
SINGLE OCCUPANCY (PER PERSON PER DAY) : 6500/- INR
DOUBLE OCCUPANCY (TWO PERSON PER DAY) :10,000/- INR
SINGLE OCCUPANCY (PER PERSON PER DAY) : 7500/- INR
DOUBLE OCCUPANCY (TWO PERSON PER DAY) :11,000/- INR